Why Rancho Santa Fe?
The population of Rancho Santa Fe is about 4,200 people. The total number of households is 1,453. It is estimated that the maximum total population of 6,500 people may occur by approximately 2007.

With an average residential lot size in excess of two acres, rural Rancho Santa Fe is distinguished by its open spaces. Sidewalks and street lights are banned from residential areas. Winding driveways lead to traditionally styled Spanish, Mediterranean or Ranch style homes flanked by fragrant, citrus and native foliage. Elaborate landscaping protects the privacy integral to the Rancho Santa Fe way of life.

Search Rancho Santa Fe Real Estate MLS Listings

Located just 5 miles inland from the beautiful coast and beneath a sun that shines 320 days of the year, Rancho Santa Fe is one of the garden spots of the world. The low-humidity, balmy climate is ideal for the relaxed outdoor life for which the Ranch is known. Maximum/minimum temperatures during an average year tell the story: August, 75/55; November, 74/50; February, 69/50. The incomparable blend of sea and mountain air, free of smog, combines to give the Ranch a quality few communities can rival. Enjoy the nightly view of hot-air balloons as the traverse the horizon.
Historic Rancho Santa Fe
On February 3, 1989, the Covenant area known as Rancho Santa Fe was unanimously approved as California State Historical Landmark, #982, by the State Historical Resources Commission. Historical Landmark applications in California must have statewide significance
to be considered. The director of California's Department of Parks and Recreation concurred with the S.H.R.C's recommendation. The plaque is on permanent display in the park on Paseo Delicias and following is a little bit of an explanation why Rancho Santa Fe became a State Historical Landmark.
If you would like to read more about The History of Rancho Santa Fe Click here: Historic Rancho Santa Fe
---
Rancho Santa Fe ~ Fairbanks Ranch
Welcome. Let me introduce you to the villages of Rancho Santa Fe and Fairbanks Ranch! These two communities are among the finest in the world and are only minutes away from major airports and financial centers. They afford a quality of life that is both unique and unparalleled.

The distinctive Covenant of Rancho Santa Fe offers estate living with complete privacy and seclusion and despite the fact that it is one of the ten wealthiest communities in the nation, residents maintain low profiles.

Leisure consists of horseback riding (the Covenant offers approximately 30 miles of riding trails), golf on a championship golf course, tennis and polo. Colorful hot air balloons launch on mild afternoons adding their blaze of color to the already sparkling skies over Rancho Santa Fe.

Fairbanks Ranch is one of Southern California's most exclusive, private residential communities. The homes in Fairbanks Ranch are architectural showcases ranging from 2,500 to 20,000 square feet. Privacy and safety are assured by 24-hour gate-guarded access and security patrol. The villages of Rancho Santa Fe and Fairbanks Ranch offer life styles for everyone desiring to live in the finest area in America. Schools serving the area are some of the best in the country.

It is also a haven for the sophisticated shopper and cultural devotee as well. The fashionable coutures, art galleries, gourmet restaurants and charming shops of Rancho Santa Fe Village, Fairbanks Plaza, Del Rayo Plaza, Del Mar and La Jolla are only minutes away.

Downtown San Diego, with its new Symphony Hall, Convention Center and famous Horton Plaza is just 30 minutes south (22 minutes via Ferrari).

December at the "RSF Golf Club" Backdropped by an ever-changing pastel painting of Pacific sunsets and an average annual temperature of 72 degrees, this residential and recreational realm offers a cherished base for golf, tennis, horseback riding, sailing, entertaining or basking in the warm California sun.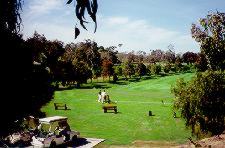 There are never a shortage of fun activities in Rancho Santa Fe and among them is the ever popular Flower Show where great fun and some stiff competition maintains a keen level of interest for both exhibitors and spectators.

In May, people "in the know" will travel many miles to the amazing, Annual Rummage Sale for the "steals and deals."

The outstanding Rancho Santa Fe Library is one of the most popular locations for residents and visitors alike. It is located conveniently in the center of the "Ranch", adjacent to the Rancho Santa Fe School and maintains a calendar of varied programs and events throughout the year.

Another "hot spot" in Rancho Santa Fe is the very special Community Center. Originally known as "Rancho Youth", the organization was founded by unselfish volunteers and massive donations from generous residents and friends to provide service to and activities for the Rancho Santa Fe community.

The Inn and Garden Club are favorite locations for June weddings as well as parties throughout the year.

Around July 4th, the community and young people from the school get together for a parade featuring floats, music, pets and other animals as well as a barbecue and tasty treats. A good time is had by all and this is a great time to appreciate "Ranch" ambiance at its best.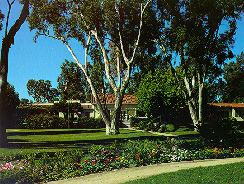 In September, Rancho Days, a celebration of the history of Rancho Santa Fe, takes place over several days and includes a huge list of fun events including the Vaqueros Ride and Campout, the Rotary Barbecue, Kids Day at the Riding Club, Family Doubles at the Tennis Club, a Roadshow Antiques' Appraisal Days, a Chili Cook Off at the Golf Club as well as the extremely popular Pancake Breakfast hosted by the RSF Fire Department and the Community Center, etc.
"The Rancho Santa Fe Inn"

October means it's time for the Annual Golf Classic hosted at the Rancho Santa Fe Golf Club.

In December, there are many favorite holiday activities, one of which is the annual spectacular Tree Lighting Ceremony which is held in front of the historical Rancho Santa Fe Inn and members of the community gather to sing with the school's young people. Another favorite activity is, Ski Week. Rancho Santa Fe School closes during this week allowing families to guiltlessly head out to ski the dazzling slopes of our western mountains or follow other endeavors they and their family have planned.
Click here to read an article about "America's Richest Town," Rancho Santa Fe